The central cog to any business is organisation. In private practice this usually revolves around an appointments schedule, keeping track of the whereabouts of both practitioners and clients.
With PPS your appointments diary can be more than just a record of your consultations.
Three easy ways to make the most of your PPS appointments diary.
1. Utilising appointment booking confirmations and reminders.
Sit back and let PPS do the work for you… well, at least some of it anyway! The key to a successful business is custom, once you have an appointment booked you want to make sure that your client keeps it.
Send your clients appointment booking confirmations via email or text with a summary of their booking details, including time, date and even practitioner!
The beauty of it is you have full control over the content, so you can even tailor your correspondence for different appointment types, ensuring those new clients know exactly what to expect and how to get to you!
You can even define which clients are eligible so that PPS automatically schedules the correspondence when appropriate.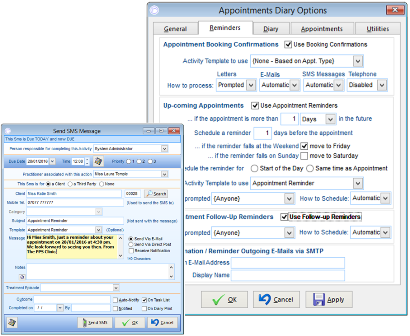 PPS appointment reminders have been proven to reduce non-attendance by up to 30% so why not reap the benefits and send your clients a quick text just before their appointment is due to remind them of their upcoming treatment details.
You can even schedule an automatic follow-up reminder to remind your clients to book a future appointment when the time comes for a review.
And with PPS' comprehensive communication preferences you can ensure that you never miss another contact opportunity by setting up your client's personal preferences.

Click here to try it for yourself!
2. Creating a holding list
If you're working in a busy practice you're probably all too familiar with having a waiting list of clients, all anxious to fill the next available appointment slot. As the list builds, so too do your notes on each individual client's preferences.
With PPS you can manage that list of clients in a clear and efficient way, allowing PPS to notify you when a suitable appointment becomes available, taking the strain off of your admin department.
When it seems like there are currently no suitable appointment slots available for your client, simply pop them on to your holding list.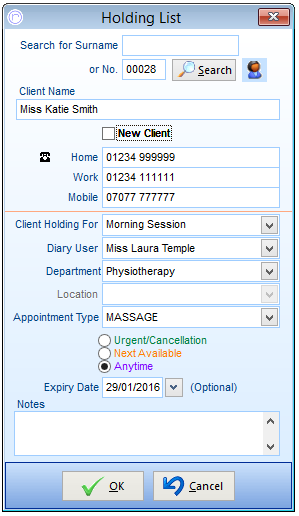 Choose from preferences such as:
Session type
Practitioner
Department
Location
Appointment type
Allowing PPS to notify you when an appointment becomes free which matches that criteria!
You can even utilise the colour coding system by selecting if your client's appointment request should be considered, urgent, if they would just like the next available slot or anytime- allowing you to prioritise when you have a cancellation.
You also have to option to set an expiry date- the client is automatically removed from the list on this date, which means this is perfect for those who have future appointments booked but would prefer to be seen earlier! Completely removing the need for you to waste time flicking back and forth in your diary to check your holding list against your appointments.
Click here to try it for yourself!
3. Practitioner booking notifications
Help your practitioners to keep on top of their schedule with automatic emails or text messages when an appointment is booked or cancelled.
If you work with locums, practitioners who have irregular hours or use PPS online appointment booking, practitioner booking notifications are the perfect way to ensure your practice is staffed efficiently.
And the best news is, it's so easy to set-up!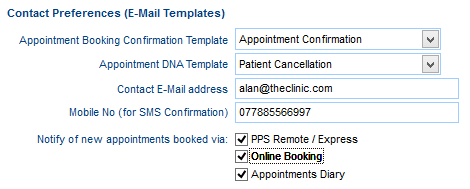 All you need to do is set up your message templates; you decide the content so you can include details of the booking such as client name, date, time and even appointment type.
Giving your practitioner a chance to prepare for new bookings or the chance to schedule in some other work when an appointment is cancelled… or perhaps a little lie in if they're really lucky!
You can even choose where the booking comes from in order to trigger the notification, so you can choose to only be notified when appointments are booked via your website or if a change is made by your call handling company. The perfect solution for managing your practitioners with none of the fuss!
Click here to try it for yourself!
Keep an eye on our blog for future hints and tips on how to make the most of your PPS system.